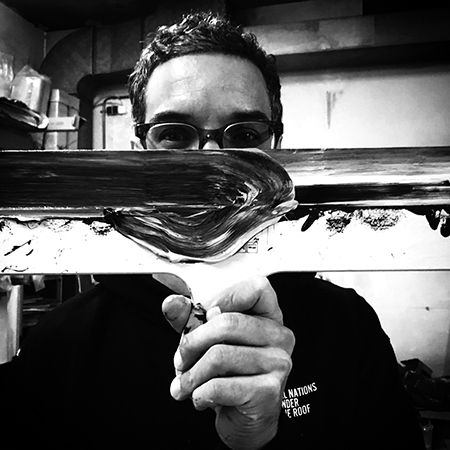 Christian Hundertmark / C100, *1974, is an artist and creative/art director based in Munich, Germany. His very first sketchs "Anarchy" & "Bat Man" in 1989 were the ignition for a career as an active graffiti writer for more than 10 years. Later on in 2000, during his graphic design studies, he discovered urban art and keeps himself busy working on various art projects and exhibitions since then.
He is also author of the bestselling books series "The Art of Rebellion I, II, III & IV", that came out in 2003, 2005, 2010 and 2016, which sold over 80.000 copies worldwide and are  denoted to be the "bibles of street art".
With his friend Patrick Hartl, with whom he also forms the artist duo "Layer Cake", Christian brought out the book "The Art of Writing Your Name – Urban Calligraphy and beyond" in 2017. www.layercake.org
His works were released in various publications and exhibited in galleries and museums worldwide.
For regular news please check out his Facebook / Instagram: https://www.facebook.com/christianhundertmarkc100
https://www.instagram.com/c100art/
To see Christians graphic design works please visit: http://c100studio.com
Exhibitions and group shows:
"Artistic Dialogue" (Layer Cake) – Munich (Germany), 2018
Layer Cake – Munich (Germany, 2017)
"PM11 Radius M Urban Nation" – Berlin (Germany), 2017
Residence K – Zurich (Switzerland), 2016
Dein Viertel /Deine Leinwand – Munich (Germany), 2016
"Buchstabenarchitektur" (SweetUno/Patrick Hartl/ Formula76 / C100) – Stuttgart (Germany), 2016
Firstpagegallery – Munich (Germany), 2016
Undplus Gallery Store – Berlin (Germany), 2016
Born 1974, Grafik14 – Zürich (Switzerland), 2014
So Far, So Good, So What?, Helmet Gallery – Munich (Germany), 2011
So Far, So Good, So What?, Nina Sagt Gallery – Düsseldorf (Germany), 2011
Undplus Gallery Store – Berlin (Germany), 2010
Siren #2, Helmet Gallery – Munich (Germany), 2010
Undplus Gallery Store – Berlin (Germany), 2009
Stroke #1, Helmet Gallery – Munich (Germany), 2009
Oakley Bread & Butter – Barcelona (Spain), 2008
Siren #1, Sodabooks – Munich (Germany), 2008
Around The Bloc, Nicholas Robinson Gallery – New York (USA) 2008
5,3 kg Flyer, Zerwirk – Munich (Germany), 2007
Red Bull Brandwagen – Vienna (Austria), 2006
So G'sehn, Serie A – Munich (Germany) 2005
Finders Keepers – London (UK) 2003, Barcelona (Spain) 2004, Milan (Italy) 2005
Food Show, Die Registratur – Munich (Germany) 2004
Food Show, Magma – London (United Kingdom), 2004
Street Art WM – Tillburg (The Netherlands), 2004
Gravis Mindclouder Tour, Carharrt-Store – Berlin (Germany), Antwerp (Belgium) 2002